Long Stem Purple Artichoke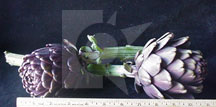 Shipping:
Truck or Airfreight
Notice:
PLEASE NOTE!!! Order Monday for Wednesday shipment…The grower cuts these to order!
Description:
If you are interested in serving artichokes in the Italian style, you're in luck! One of our growers is harvesting PURPLE ARTICHOKES WITH LONG STEMS. To serve them in the best light: Do not cut off the stems. Working with one artichoke at a time, bend back the outher leaves until they snap off close to the base, and discard several layers of leaves in the same manner until the exposed leaves are pale green at the top and pale yellow at the base. With a sharp stainless-steel knife, cut off the tops of the remaining leaves about 1 to 1 1/4 inches from the top of the artichoke. Trim the fibrous parts from the base of the artichoke, being careful not to break off the stem. Cut a thin slice from the end of the stem to expose a fresh cross section. Trim the outer green fibrous part from the stem, leaving the pale core intact. Rub the artichoke all over with the cut side of a lemon. Squeeze the other half of the lemon into a bowl of cold water, and drop the squeezed lemon into the water. Put the trimmed artichoke in the acidulated water. Repeat with remaining artichokes. Quarter 1 artichoke lengthwise through the stem and with a stainless-steel paring knife cut out the choke. Trim any spiky purple-tipped leaves, and return to the bowl. Prepare the remaining artichokes in the same manner. Simmer artichokes in boiling water (with 1/2 a lemon) 5 minutes of until almost tender, and drain in a colander. Artichokes may be prepared up to this point 1 day ahead, cooled completely, rolled in damp paper towels and placed in a platic bag. Now they're ready for any recipe calling for artichoke hearts. Trying quickly grilling the prepared LONG STEM PURPLE ARTICHOKES. Pile them up on a warmed Italian stoneware platter and drizzle with olive oil that's been warmed with garlic, thyme and lemon zest. Garnish with freshly milled pepper and fresh thyme. Buon appetito!