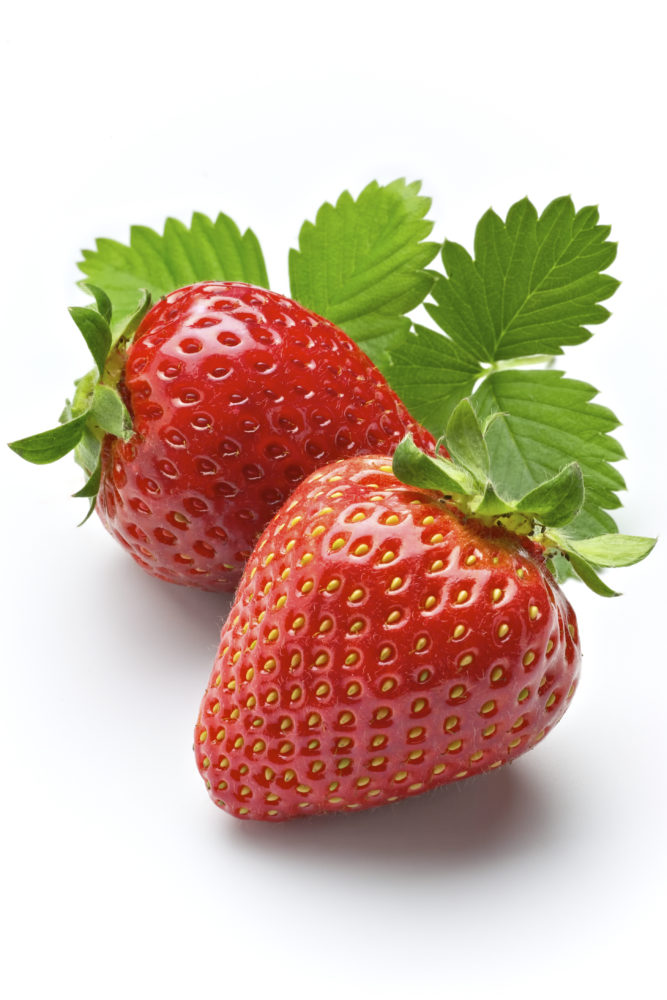 Description:
Phytochemical: Anthocyanins, Ellagic Acid
Skin Texture: Juicy, slightly bumpy, with tiny seeds.
Shape: Oval to conical shape.
Color: Red
Flesh Description: Red, juicy fruit with tiny seeds.
Usage: Strawberries are great as a fresh snack.
Taste: Sweet.
Receiving Information:
Washing: Berries are often picked and packaged right in the field so it is important to wash them before eating. Never rinse your berries until just prior to use. Any moisture will hasten the breakdown of the berries. Gently rinse berries with cool water just before eating.
Refrigeration: Keep berries in the refrigerator at all times until you are ready to use them. Berries left out of refrigeration have a substantially shorter shelf life and will break down quickly.
Mold: Remove moldy berries from your package immediately as mold will quickly spread to the other berries.
Storage/Handling:
Optimum Temp (F):  32 – 34F   \   0.0 – 1.1 C
Optimum Humidity:  90 – 95 %
Storage Life (Days):  5 – 7
Ethylene Producer:  No
Ethylene Sensitive:  No
Water Sprinkle:  No
Odor Producer:  No
Ripens After Harvest:  No
Mist:  No
Top Ice:  No
Odor Sensitive:  No
Decay: Delays in cooling strawberries soon after harvest or handling strawberries at temperatures above 36 degrees F/2 degrees C will accelerate the growth of gray mold – always inspect strawberries carefully upon arrival.
Internal breakdown: Indication of being sprayed before or during storage or removing the green caps prior to rinsing. Do not spray berries during storage. (Berries should not be rinsed until just before they are used. Remove green caps after berries are rinsed to help preserve the strawberry flavor and prevent internal breakdown.)
Loss of color or flavor; shriveling:
Indication of storage for long periods of time – maintain proper storage temperatures and use strawberries soon after receiving.