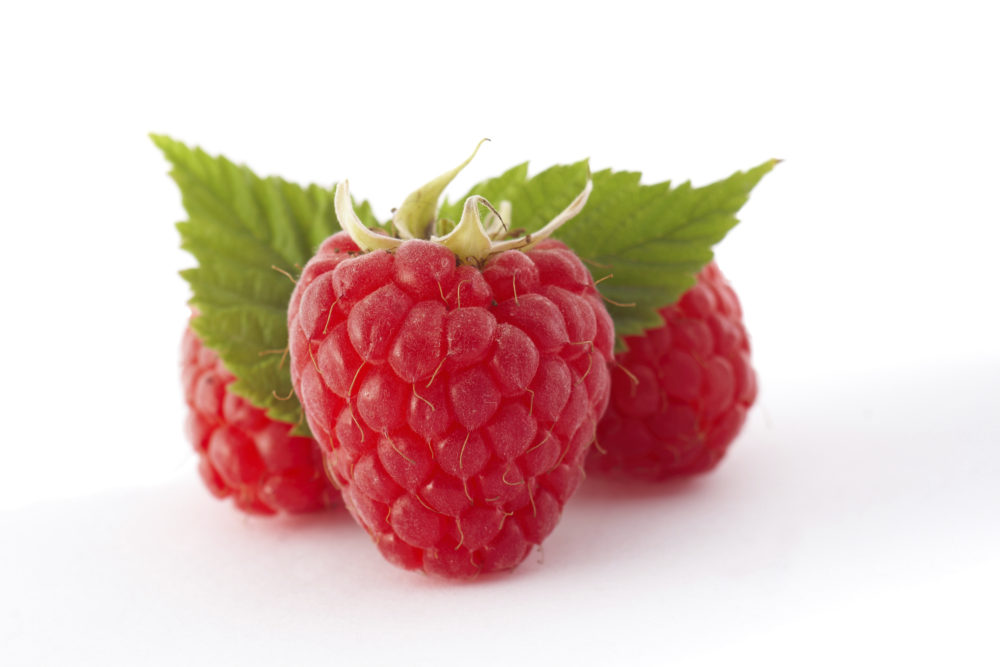 Description:
Shape: Bumpy; juicy
Phytochemical: Ellagic Acid
Usage: Great snack; excellent topping on cereals, pancakes, waffles, yogurt or desserts; used in muffins, shakes/smoothies, sorbets, in salads or sauces. Great for jams and jellies.
Color: Red
Flesh Description: Red, juicy
Shape: Round to ovoid or conical
Scientific Name: Rubus idaeus
Taste: Sweet, slightly acidic flavor
Receiving Information:
Product breakdown: Raspberries are sensitive to even light freezing – do not store raspberries below 30 degrees F/-1 degrees C.
Decay: Raspberries may decay if they are allowed to stand at room temperature. Keep raspberries properly refrigerated until ready to use or display.
Leaking; deterioration: Berries may leak or begin to deteriorate if they are mishandled. For best quality, handle berries with care; do not drop -shipping containers on floor.
Storage/Handling:
Optimum Temp (F):  32 – 34F           0.0 – 1.1 C
Optimum Humidity:  90 – 95 %
Storage Life (Days):  2 – 3
Ethylene Producer:  No
Ethylene Sensitive:  No
Water Sprinkle:  No
Odor Producer:  No
Ripens After Harvest:  No
Mist:  No
Top Ice:  No
Odor Sensitive:  No
Washing: Berries are often picked and packaged right in the field so it is very important to wash them before eating. Never rinse your berries until just prior to use. Any moisture will hasten the breakdown of the berries. Gently rinse berries with cool water just before eating.
Selection: Consumers should choose berries that are firm to the touch but give slightly. Avoid mushy berries or berries that are crushed or show signs of mold.
Refrigeration: Keep berries in the refrigerator at all times until you are ready to use them. Berries left out of refrigeration have a substantially shorter shelf life and will break down quickly.
Taste: Raspberries have a mostly sweet, slightly tart flavor.