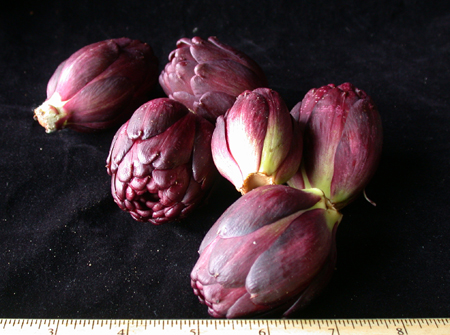 Availability:
Year Round (with short gaps in July and November)
Shipping:
Truck or Airfreight
Notice:
PLEASE NOTE!!!: Order Monday morning for Wednesday shipment
Description:
We love these little chokes! The offshoots of an Artichoke variety developed here in Southern California, Baby Purple Artichokes have a more intense, nuttier flavor than their Green Globe cousins. They also cook faster. Our farmer developed this variety, Fiesole, in 2004 from traditional European varieties such as French ' Violet de Provence' and Italian cousins in Sicily, Tuscany, and Venice, like ' Violetto di Toscana' . Along with cooking Baby Purple Artichokes, our farmer suggests trimming these little babies, cutting them in quarters and serving them raw with bagna cauda.