Gai Lan (Chinese Broccoli)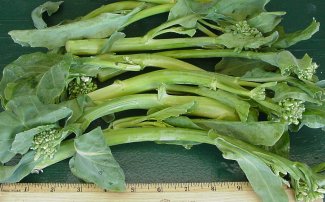 Pack:
10 and 30 lb. cartons
Shipping:
Truck or airfreight
Description:
Also known as Chinese broccoli or Chinese kale, this brassica grows up to three feet high and forms strong stems, glossy, blue-green leaves, and flowers like broccoli. An everyday vegetable throughout Asia, it is cultivated mostly for these fleshy stems, the young and tender leaves and the unopened flowers. This vegetable is often compared to rapini and can be prepared in the same manner, though gai lan is not nearly as bitter. When cooked, the stems and leaves have a slightly bittersweet taste they are most often stir-fried, steamed, or boiled. Add oyster-flavored sauce and you'll have a traditional Chinese favorite. As a main course, season with garlic, soy sauce and ginger, toss in a bit of chicken, beef or pork and serve with Oriental noodles.