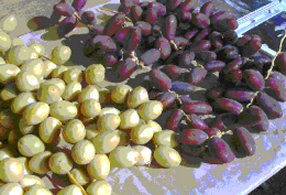 Pack:
30lb or 10lb (Barhi only)
Shipping:
Truck or Airfreight
Notice:
PLEASE NOTE: Please order Monday for Wednesday shipment!
Description:
We usually see dried dates, packed in trays. These are fresh dates, still in a bunch. Fresh Barhi Dates(on the left) are a prime date of Arabia, valued for its delicate and rich flavor. The ripening date develops its sweetness at an early stage making it a popular fresh date, and it also cures well. Fresh Hilali Dates (on the right) are also Arabian in origin. They have excellent flavor but do not cure well and so must be eaten fresh.