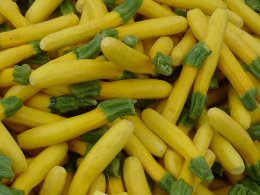 Pack:
5 lb cartons 10 lb cartons
Availability:
Year-round with gaps due to poor quality
Description:
Baby gold zucchini is a smaller version of the ever-popular gold bar squash. It is a great way to add its beatiful gold color to salads and side dishes. Baby gold zucchini does not travel as well as baby gold summer, so we recommend shipping this item by air.