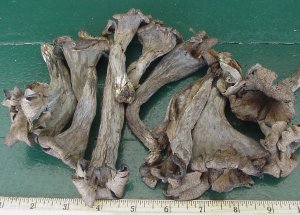 Pack:
By the pound (usually 5lb. carton)
Availability:
end of July and August, and November through March
Shipping:
Truck or Airfreight
Description:
Black Trumpet Mushrooms (Craterellus cornucopiodes) are a member of the chanterelle family, one of the most beloved wild mushroom groups. Black Trumpets are a favorite for cooking. They are great in soups, stews and casseroles, with a buttery woodsy flavor. Good partners for mushrooms include butter, sour cream, cream, olive oil, dark sesame oil, garlic, parsley, lemon, rosemary, tarragon, cumin, paprika, pine nuts, bread crumbs, wine sherry, Madeira, onions, potatoes, leeks, barley and rice.