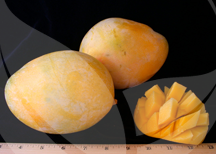 Pack:
5lb carton 15lb carton
Availability:
August and most of September
Shipping:
Truck or Airfreight
Description:
These beautiful Mangoes are super high in sugar (21 to 23 percent!) and grown in California' s Coachella Valley. Our farmer' s father dreamed of growing Mangoes on his California farm, but experts said it couldn' t be done. After his death, his daughter took up the torch and fulfilled her father' s dream. But don' t think growing Mangoes in California has been an easy feat: Each and every young Mango (they grow Valencia Pride and Keitt varieties) is covered with a paper bag so they are protected from the scorching desert sun. With care like that, these Mangoes are can' t help but be amazing!