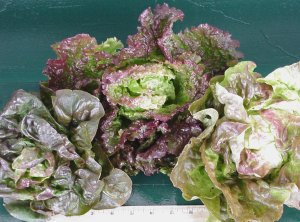 Shipping:
Truck or Airfreight
Count:
6 heads (8 heads if one of the varieties is Little
Notice:
Tuesday morning order for Wednesday shipment
Description:
When everybody and their brother serves spring mix, it's time to look for something that sets you apart from the pack. HEIRLOOM LETTUCES will do just that. One of our favorite family farmers has turned growing HEIRLOOM LETTUCES into an art form. The Coleman family is currently harvesting several varieties, including Black Seeded Simpson, Grenoblase, Green Perella, Red Perella, Red Butter, Vulcan, and Little Gem. Shown here (from left to right) are Red Perella, Grenoblase and Red Butter. Every day, we pack two heads each of three different varities (four heads of Little Gem, because they're quite small) into cartons of MIXED HEIRLOOM LETTUCE. These lettuces present beautifully, but their real value is in their flavor, bite and texture. They're truly gifts from the past, and we thank the entire Coleman family for keeping these varieties alive.