Black Genoa Fig (New Zealand)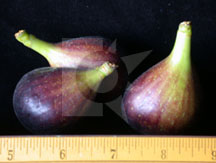 Availability:
late February through March
Shipping:
Truck or Airfreight
Description:
An heirloom variety, the Black Genoa Fig can trace its development as a variety back to 1914 One of the main commercial varieties grown in New Zealand, the Black Genoa Fig is a large sized fig with purple skin and dark red flesh. The flavour is very rich and sweet. The Black Genoa is at the heart of a great Fig mystery. The Black Ischia was considered the best purple Fig in the 1950s but it has since has disappeared. Hmmm. Some people posit that the Black Ischia has been renamed the Black Genoa, ergo the Black Ischia may live on…but under an assumed name!