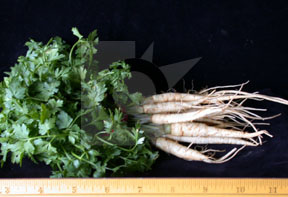 Pack:
6 bunches per carton
Availability:
January and February, May and June
Shipping:
Truck or Airfreight
Notice:
PLEASE NOTE!!!! Order Tuesday morning for Wednesday afternoon shipment
Description:
Sweet and petite, these BABY PARSLEY ROOTS are lovingly harvested by one of our favorite organic growers. Mildly flavored but redolent with the essence of fresh parsley, these little beauties would be lovely in a spring saute featuring baby red carrots and baby gold beets. Toss with a bit of minced chervil and you have a side that says, "Behold, Spring!". As an alternative, you can serve them chilled…blanche, cool and toss with a light herb vinaigrette.