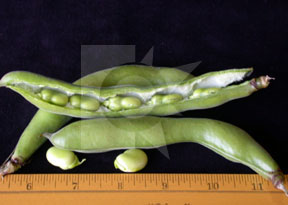 Availability:
Late Mar into Jun Aug and Sept
Shipping:
Truck or Airfreight
Yield:
2 1/2 cups shelled beans
Notice:
PLEASE NOTE!!! Order Tuesday morning for Wednesday shipment
Description:
Fava beans are one of Spring' s greatest gifts. BABY FAVA BEANS are even better! Young, small and tender, BABY FAVAS are lighter green but sweeter than their fully grown counterparts! If you like Favas, you' ll love BABY FAVA BEANS. Try a Saute of BABY FAVA BEANS with Onions, Fennel, Pancetta and Dill. Or BABY FAVA BEAN and Fresh Ricotta Bruschetta. Not inspired yet? How about Roasted Asparagus with BABY FAVAS and Morels.