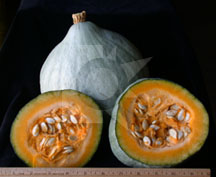 Availability:
August and the first part of September
Shipping:
Truck or Airfreight
Notice:
Order Tuesday for Wednesday shipment
Description:
Blue Hubbard is the single most elegant member of the hard squash family, so consider these BABY BLUE HUBBARDS well-bred youngsters. Lovely in shape and exterior color, they make gorgeous natural serving dishes. Used in any recipe that calls for a hard squash (pumpkin butternut, etc.), this squash will impart its sweet, rich flavor and deep yellow color. Grown on a family farm in California's high desert, BABY BLUE HUBBARD will grace any table.