Stone Fruits, Peach Donut™/Saturn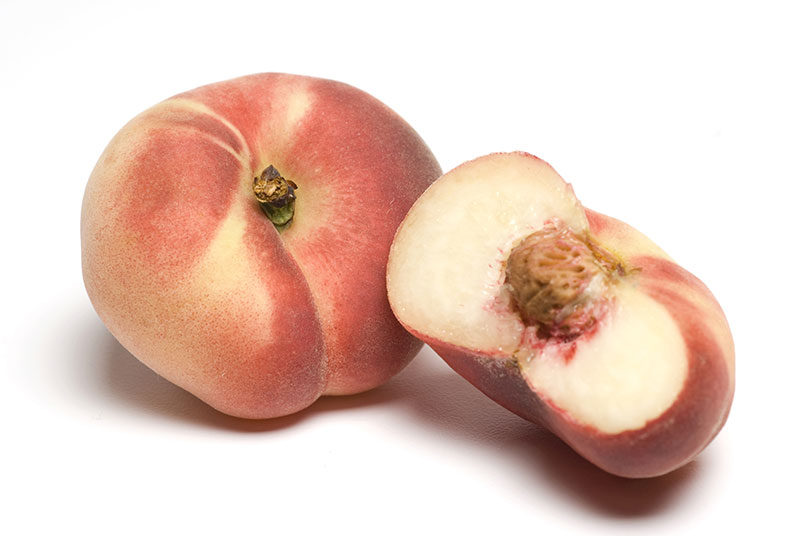 Availability:
Available January, February, May, June, July, August
Receiving/Storage:
Storage/Handling: Temperature: shipping point and in transit, 32 to 34 F (0 to 1 C); receiving, 51 to 77 F (10.6 to 25 C). Relative humidity: 90-95%. Mist: no. Typical shelf life: 14 to 21 days. Ethylene producer (Do not store or transport ethylene-sensitive items with commodities that produce ethylene.) Highly sensitive to freezing injury. (Likely to suffer injury by one light freezing.) The popular red blush may be present on peaches in varying degrees depending upon the variety, but it is not a true sign of maturity.
Description:
Also known as a Donut Peach™, the Saturn Peach was named for its flat shape and sunken center. Descendants of the Chinese flat Peach (Peento), this variety is usually 2 1/2 to 3 1/2 inches in diameter and 1/2 inch tall with pale yellow skin tinged with a slight blush. The juicy white flesh boasts a low acid, sweet flavor with a hint of almond. The flesh is tender and perfect for those who love a sweet finish. Saturn Peaches are a freestone variety with a pit about the size of a pistachio nut, making them perfect for eating out-of-hand. Although they look unusual, Saturn Peaches can be used as any other Peach. Try grilling with olive oil and top with ginger crème fraiche.