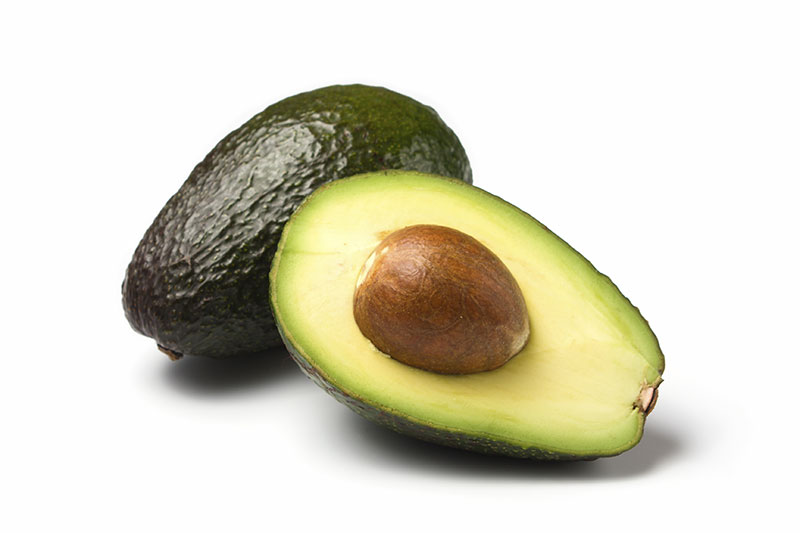 Receiving/Storage:
Receiving:
Unripe: All varieties should have green skins at are free of bruises and hard or soft spots.
Ripe: Hass avocadoes should be purple-black in skin color. Ripe avocados should yield to gentle pressure and should be free of bruises and hard or soft spots. Pulp color and texture should be consistent with variety and free of any dark spots or streaks.

Storage/Handling: Temperature/humidity recommendation for short-term storage of 7 days or less:
Unripe: 45-50 degrees F; 85-95% relative humidity.
Ripe: 36-40 degrees F; 85-95% relative humidity.
Description:
Avocados date back to at least 1519 when Hernando Cortez, Spanish soldier of fortune, was the first white man to set foot in Mexico City. The first written account of the avocado is contained in the report of Gonzalo Hernandez de Oviedo (1526), who saw the tree in Colombia, near the Isthmus of Panama. Mexico, Central America & Northern South America are considered to be the centers of origin of avocados. Archaeological and other evidence indicates that avocados were cultivated possibly some 6000 yrs ago. Avocados were not commercially exploited until the first years of the present century, when their potential for commercialization was developed by Californians. The California avocado industry goes back to Puebla; Carl Schmidt, from California, visited Mexico City, Puebla and Atlixco in 1911 to search the Mexican market place for avocados of outstanding quality and to locate the trees from which they came. Many selections were not well-adapted to California conditions, but one which Schmidt had selected from a tree in the garden of Alejandro Le Blanc flourished. Its strength was officially recognized when it survived the great freeze of 1913 and it was named ïFuerteÍ – Spanish for vigorous and strong. The ïFuerteÍ tree that Schmidt found in Atlixco became the mother tree for CaliforniaÍs avocado industry.
Growing Regions: California, Chile, Mexico.