Amandine Fingerling Potato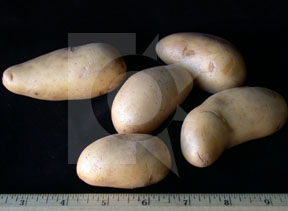 Pack:
10lb cartons 50lb cartons
Availability:
January through July
Shipping:
Truck or Airfreight
Yield:
100% (' cause you don' t peel them!)
Description:
AMANDINE FINGERLING POTATOES are virtually unknown to North American cooks, but Weiser Family Farms plans to change that! These lovely fingerlings have smooth, yellow skin with shallow eyes and rich, yellow flesh. AMANDINE FINGERLING POTATOES' consistant shape and smooth exterior makes them perfect for wedges and slicing.