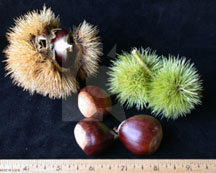 Pack:
5lb cartons 25lb sacks
Availability:
September through December
Shipping:
Truck or Airfreight
Yield:
Peeling loss is about 50 percent of raw weight.
Notice:
Daily Availability
Description:
Chestnuts (ours are grown in California!) contain more starch and less oil than most other nuts and have had a special role as food for this reason. Rural uses of wild Chestnuts include the original Italian polenta, a porridge that was made with Chestnut meal before the introduction of maize from the New World and bread and biscuits made of Chestnut meal mixed with cereal flour. Although the European chestnut has almost the same proportions of protein, starch and fat as wheat, it lacks gluten to bind bread together, and can be used in breads in moderate amounts. Chestnut meal, called farina dolce (sweet flour) in Italian, is often used as a thickener in Italian dishes. Chestnuts are often employed in stuffings for poultry. Other Chestnut preparations include purees for serving with meat and game Chestnust cooked with Brussels sprouts Chestnut soups and soufflé s the Italian castagnaccio, a semi-sweet baked dish incorporating other nuts and sultanas numerous puddings many gateaux and cakes and Chestnut ice creams.