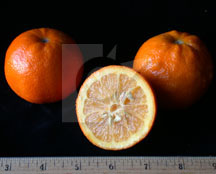 Availability:
January through March
Shipping:
Truck or Airfreight
Description:
Very juicy, aromatic and sour, Seville Sour Oranges are used in the production of marmalades, liqueurs, orange flower water, perfumes and oils. The Blue Chair Jam Cookbook has a great recipe for Seville Orange Marmalade with Rum, Vanilla and Piloncillo.

A classic Cuban mojo or marinade is made with equal parts of Seville Sour Orange juice and olive oil, with the addition of garlic and onion. For a contemporary twist, use Seville Sour Oranges in any recipe that calls for Lemon. Our Seville Sour Oranges are locally grown, and the quality is outstanding!