Aomori Apples (Japanese Fuji)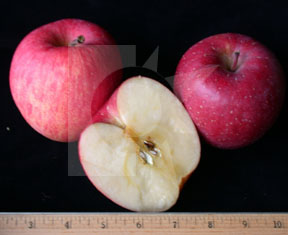 Pack:
2 layer 28lb cartons
Availability:
February and March
Shipping:
Truck or Airfreight
Notice:
1 week lead…$15 more per carton this year so we are bringing them in per order only
Description:
These gorgeous Fuji apples are grown in Japan with loving attention to detail. Leaves are stripped by hand from the vacinity of each young apple to assure full exposure to sunlight, viola' , a Fuji apple with full, dark red skin! These Aomiori Apples combine the bright, sweet flavor and crisp, juicy texture of California-grown Fujis with the eye-appealing exterior of a Red Delicious. Flown from Japan, availability is limited on these beautiful Apples.