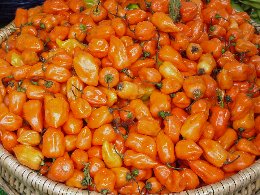 Pack:
10 lb. cartons/8 lb. cartons d
Availability:
Year-round with some gaps due to poor quality
Shipping:
Truck or Airfreight
Description:
Habanero chilis are probably the most famous and feared of the chile line-up. They are green, orange, orange-red or red when fully ripe, shaped like little pointed lanterns, and up to 2 inches long and 1 1/2 to 1 3/4 inches in diameter. They measure 200,000-500,000 on the Scoville heat index. For reference, jalapenos register 3,500-4,500 and Thai chilis 70,000-80,000. Mainly used in salsas, chutney, marinades for seafood and pickled, habaneros are becoming an increasingly familiar ingredient in bottled condiment sauces.