Chilaca Chile (True Pasilla)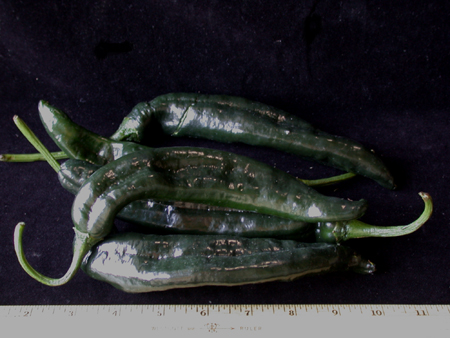 Availability:
Late January through October
Shipping:
Truck or Airfreight
Yield:
One chile weighs around 4 to 6 ounces. Trimmed an
Description:
Fresh chile names can be very confusing in Southern California. Our goal is to sort this out. The name PASILLA means "little raisin," a reference to the raisiny appearance and aroma of the this very distinctive chile that the West Coast calls CHILACA. This misnomer was started in northwestern Mexico and Californians perpetuate it. To further complicate the issue, a Oaxacan chile with the same color but an entirely different appearance and flavor is called pasilla. That Oaxacan pasilla is very likely the progenitor of the long green/red New Mexican Chile which is said to have had the pasilla as an ancestor. In the Oaxaca area, the true pasilla is known as pasilla de Mexico, while the local cultivar is the pasilla de Oaxaca or just pasilla. Confused? Welcome to our nightmare. The Chilaca that we show here is a mild chile, four to seven inches long, 3/4 to 1 inch in width and dark blackish green ripening to dark brown. The fresh chilaca is used primarily in the central and northwestern regions in Mexico in sauces and as a vegetable after charring and peeling. When dried, they are called Negro chiles and have a rich, mellow flavor desirable in cooked sauces, or toasted and crumbled, or ground into a table sauce.