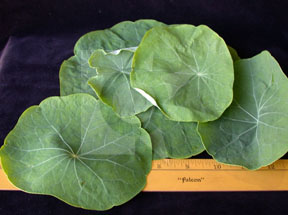 Pack:
6 bunches per carton
Shipping:
Truck or Airfreight
Notice:
PLEASE NOTE!!! Order Tuesday morning for Wednesday shipment
Description:
Edible flowers have become increasingly popular over the past few years. Nasturtiums are favored for their peppery flavor and bright color. NASTURTIUM LEAVES offer that same peppery flavor with a whole different look. Use them to brighten up the flavor in a green salad. Try spreading NASTURTIUM LEAVES with an herbed goat cheese or marscapone mixture…fold them into quarters, drizzle with an herby vinagrette, and serve as a first course. Add some welcome flavor to tea sandwiches with NASTURTIUM LEAVES. In addition to all their flavorful attributes, they are perfect for presentation because they lie flat, ready to make any plate more appealing.