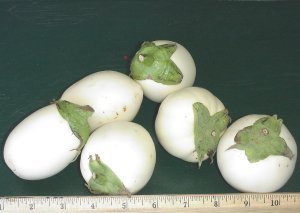 Pack:
24 count tray (code reads 3 lb
Availability:
Off and on through the year
Shipping:
Truck or Airfreight
Description:
Baby White Eggplant has the same taste as the average purple Eggplant however the skin is slightly tougher and is recommended to be peeled prior to cooking. Think of the Baby White Eggplant as you would a normal eggplant but it holds its shape much better. Try roasting the Eggplant and using in Baba Ganoush, a Middle Eastern dish that features Eggplant with Tahini and Lemon juice. The miniature size offers unique variation to many common Eggplant dishes.