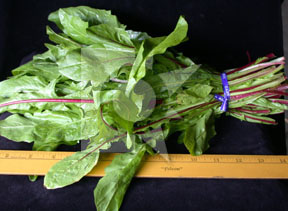 Pack:
6 bunches per carton
Availability:
Year-round with weather-related gaps
Shipping:
Truck or Airfreight
Notice:
Tuesday morning for Wednesday shipment
Description:
Commercially grown Dandelion Greens are usually about 2 feet long, very dark green and fairly tough. These Red Dandelion Greens are grown on a family farm in Ventura County, California, and they are nothing like what we are used to. They are about 10 inches long, bright spring green with red ribs, and very tender. They are assertive and bitter, and are wonderful when sauteed as a side, wilted in hot pasta or mixed with milder greens for a salad.