Orange Cauliflower (Organic)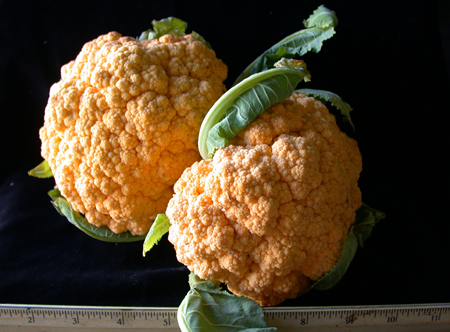 Pack:
6 to 12 heads per carton
Availability:
January through March May and June Oct into Dec
Shipping:
Truck or Airfreight
Yield:
One 1.25lb head yields 10oz of florets
Notice:
PLEASE NOTE!!!: Order Monday morning for Wednesday shipment
Description:
This is our favorite Cauliflower color! When cut into small florets and cooked, they look buttery and rich and beautiful. Some chefs call it Gold Cauliflower on their menus. This beautiful color gives any traditional treatment of Cauliflower a new level of eye appeal. And you' ll love the flavor, too! Our Orange Cauliflower is organically grown on a small family farm in California. Beautiful color, great flavor, and produced by a true steward of the land…are not these the attributes of an exceptional vegetable?!?