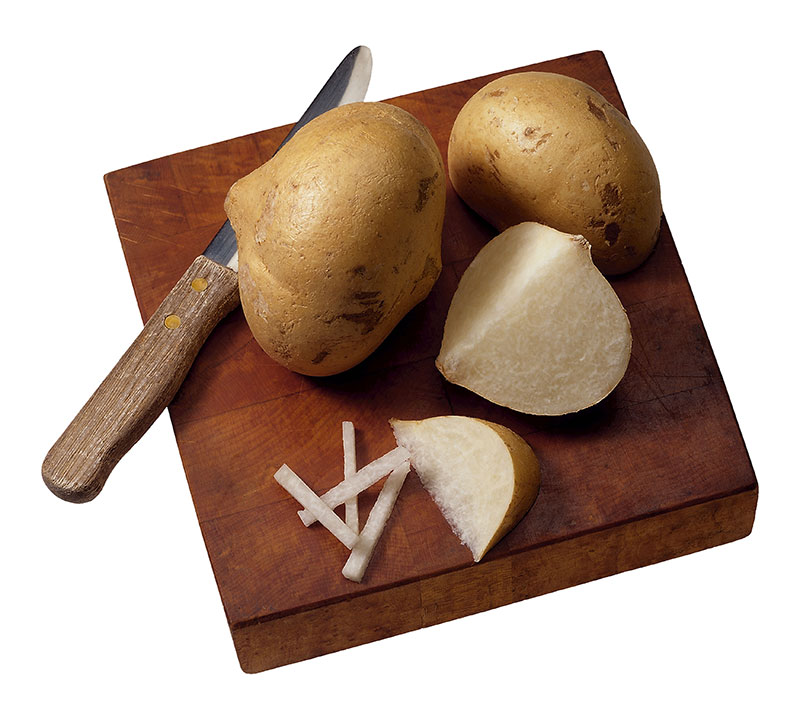 Receiving/Storage:
Receiving Information:
Choose Jicama with firm texture and smooth, unblemished skin. Avoid shriveled or moldy Jicama.
Decay; internal brown discoloration: These are indications of chill injury. To prevent chill injury, do not store Jicama below 55 degrees F/13 degrees C.
Sprouting: Jicama may begin to sprout if exposed to high temperatures. For best quality, maintain storage temperature of 60-65 degrees F/16-18 degrees C. Mold: Jicama may show signs of mold if it becomes moist during storage. To prevent molding, keep product dry and maintain a humidity level of 85-95%. Storage/Handling: Temperature/humidity recommendation for short-term storage of 7 days or less: 60-65 degrees F.
85-95% relative humidity.
Description:
Resembles a turnip in appearance with round, slightly squat shape, light brown skin, and ivory flesh. Flavor is subtle and sweet; texture is crunchy and juicy. Jicama must be peeled before using. May be served raw or cooked. Jicama may be used as a substitute for water chestnuts. Grows in tropical temperate zones of America, including the Andes region and Ecuador. Jicama is harvested when it attains a length of 8 to 12 inches and a diameter of 1 inch.